Marian Middle School is ENROLLING




for the 2023-2024 School Year
For more information, contact Sharon Baca.




Please call 314.771.7674 ext. 10 for more information.
Being a Marian Girl means so many things. Our students consider themselves sisters and they consider our faculty, staff, and volunteers family. These strong relationships also carry over to our students' families.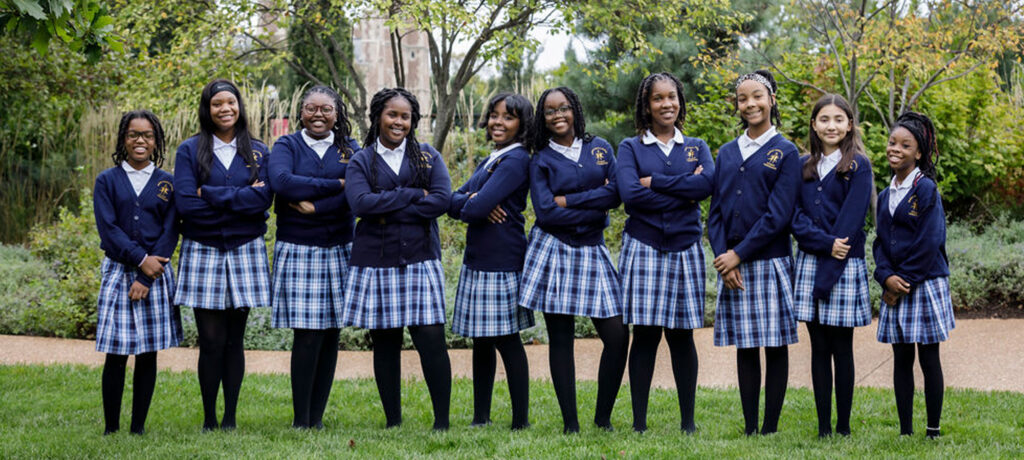 "I am the fifth member of my family to come to Marian! After witnessing how the school empowered my four older cousins to be successful through middle school, high school and college, I knew Marian was the place for me."
Jazmia B.
Marian Class of 2022
"I learned from Marian's inspirational teachers who encouraged me to be a leader. They helped me set my sights on a bright future. Ms. Harris on the Graduate Support Team has mentored me through the college application process, helped me with college essays, and helped me gather letters of recommendation. She helped me sign up for the ACT and SAT, which Marian's Graduate Support Program paid for me to take."
"Marian instilled a spirit of entrepreneurship in me and I decided in 5th grade that I wanted to be my own boss. Today, I'm on my way to becoming a pediatric dentist. My vision is to volunteer in low-income areas, where I'll provide dental healthcare to people who need it."
CarlyRae L.
Marian Class of 2018
Incarnate Word Academy 2022
"The Graduate Support Team at Marian was vital to my success in high school. No matter what I needed, they were able to provide: dual enrollment classes, ACT fees, college application fees, and the prestigious and highly competitive Washington University College Preparatory Program. Marian stood alongside my family and me through this entire journey."
Nakaila C.
Marian Class of 2018
Nerinx Hall High School 2022
"The past year made me realize that I could do more than I thought I was capable of doing. I know I can step up to the plate. I always knew I was a leader, but my Marian teachers helped me bring it out even more and become the person I am today. Now I lead for my younger siblings."
Rayne L.
Marian Class of 2021
Rayne is the fourth in her family to experience the life-changing effects of being a Marian Girl. Her sister Nautica, for example, became her high school valedictorian, while her sister LaDaria cares for patients as a successful registered nurse at Christian Hospital. Today, their tradition of success continues!
"Before Marian, I was very shy because I attended home school. My personality never flourished until I came here. Now I'm more outgoing and expressive, I have my own opinions that I voice, and I feel prepared."
Jahleah H.
Marian Class of 2022
Marian Girls are on a journey. A journey to graduate high school. A journey to a college degree. A journey to find career success. A journey to achieve economic independence. Marian Girls learn through hands-on, project based activities.
Marian Middle School is preparing our students for the future. In order to break the cycle of poverty, our students need to have the knowledge and tools to succeed academically. Read more to learn how we are preparing our students for success.