Please Join Us for Marian Middle School's 15th Annual Girls Night Out
Girls Night Out is a fundraiser to empower the girls of Marian Middle School.
For over a decade, GNO has generated a popular following for empowering women leaders to help Marian break the cycle of poverty for girls with limited means but high potential – all within a powerful networking event.
Purchase Tickets Here
Individual Ticket: $50
Individual Ticket Pack (5 tickets, discounted ): $200
Corporate Ticket Pack (10 tickets, discounted): $400
Sponsorship Levels
Click here to learn more.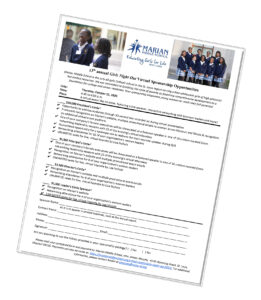 GNO2022
September 22, 2022 5:30PM – 7:30PM
The Charles F. Knight Center – Washington University
St. Louis, MO 63130
Get Directions
President's Circle
Principal's Circle
Director's Circle
Leader's Circle