—

Frequently Asked Questions

—
Marian Middle School is STILL ENROLLING


for the 2023-2024 School Year
For more information, contact Sharon Baca.
Please call 314.771.7674 ext. 10 for more information.
What does it take to be a Marian Girl?
Marian Middle School is committed to serving urban adolescent girls from diverse backgrounds. We are looking for girls of promise, who are ready for the rigors of a non-traditional school setting and capable of meeting the eligibility requirements of a high-performing high school. To be considered for admission, the student must be in fifth, sixth, seventh, or eighth grade. She must qualify for the free and reduced-fee meals program. A Marian Girl must demonstrate good behavior and have a positive attitude. She is expected to be on time and must have a strong attendance record. A Marian Girl will need to score within certain parameters on the admissions exam. Additionally, each student must be supported by at least one caring adult. The parent/guardian must commit to supporting the student and the school by attending student-parent/guardian-teacher conferences and completing service hours during the school year.

What is the environment like at Marian?
"The environment is like home. The teachers are like mothers to me and the students are like sisters. Marian's motto, 'Once a Marian Girl, Always a Marian Girl!' is so true!" ~Trenia C., Class of 2017
"The environment is very happy and all the students are nice and forgiving. And the teachers are always there for you." ~Alana F., Class of 2019
Responsibility and respect are two words that characterize the environment at Marian. Faculty and staff alike model these concepts and nurture them in students. Students, faculty, and staff partner together to minimize distractions and enhance the learning environment.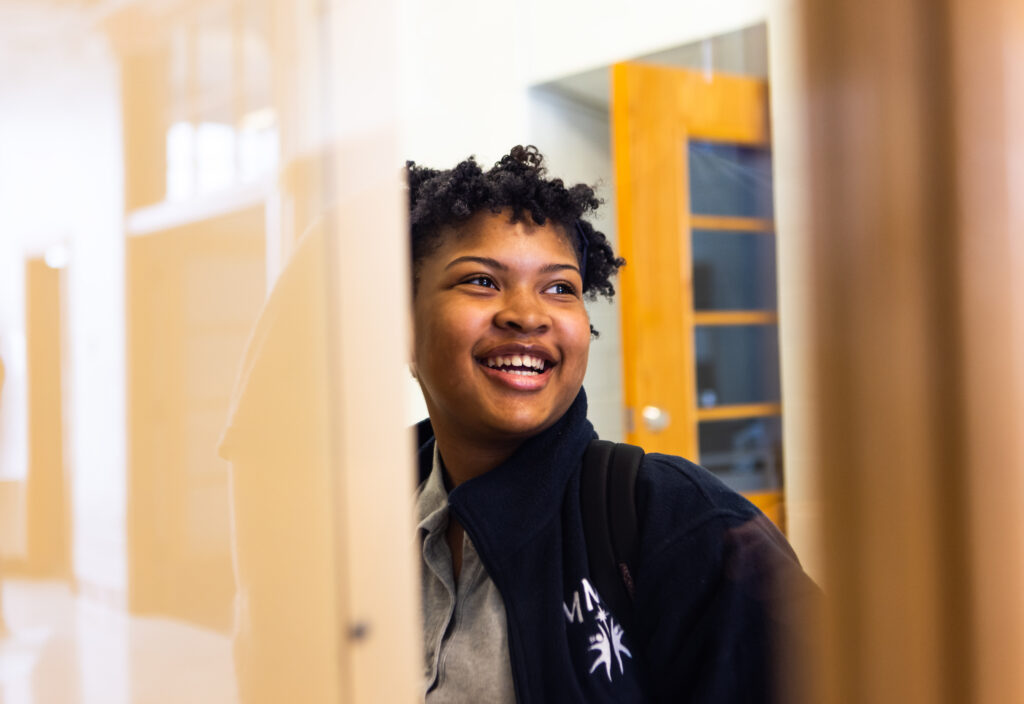 What is the NativityMiguel model of education?
The first NativityMiguel model school opened in 1971 in the Lower East Side of Manhattan by a group of Jesuits wanting to provide a high-quality education to immigrants so they could excel academically, socially, and spiritually. Thanks to the school's extended school day and year, low student-to-teacher ratio, and commitment to support graduates throughout their high school and college years, students prospered. The success of the school led to similar schools opening throughout the United States. At one point, there were more than 60 NativityMiguel model schools in the United States. Today, 35 NativityMiguel model schools together form the NativityMiguel Coalition. In St. Louis alone, there are five schools following the model. As a NativityMiguel model school, Marian:
serves families from lower-income backgrounds
provides holistic and faith-based education
extends the school day and year
partners with the family
commits beyond graduation
engages in a process of ongoing assessment
governs with strong leadership and effective practices

What is the Graduate Support Program?
The Graduate Support Program supports Marian alumnae financially, emotionally, and socially through their high school and college years. Students attending tuition-based high schools can receive partial scholarships from Marian to make their education more affordable, if they meet certain requirements.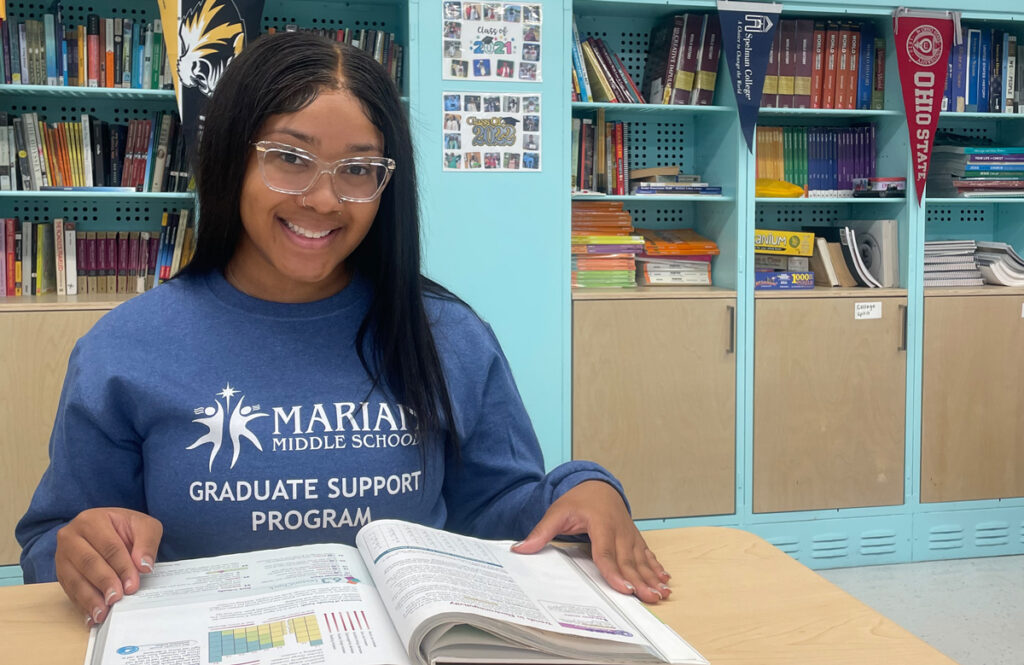 What neighborhoods do most of your students come from?
Marian serves urban adolescent girls from the greater St. Louis metropolitan area, representing over 30 different zip codes. Most of our students live in the City of Saint Louis, but some travel from as far north as Florissant and as far east as Belleville, Illinois.
Does my child have to be Catholic to attend Marian Middle School?
Marian's first objective is to provide a quality education to prepare our alumnae for high school, college, and career success. Our students come from all walks of life and religious beliefs.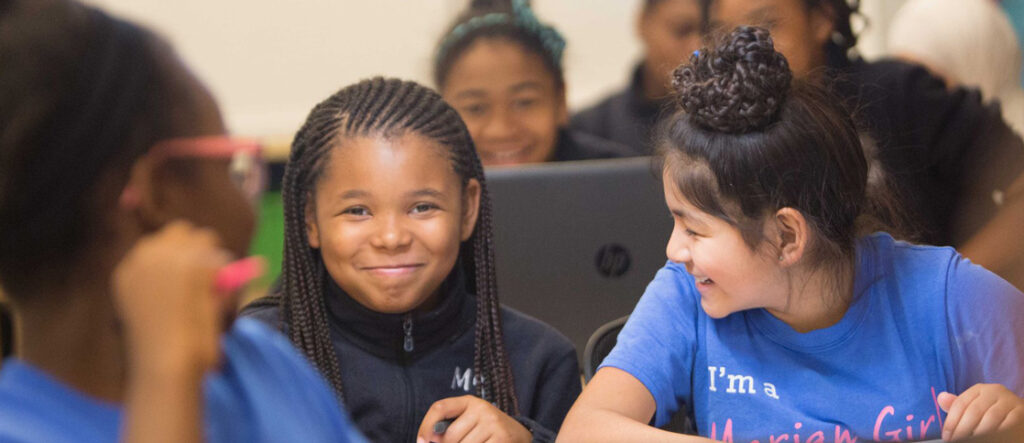 Is there a dress code?
Yes, Marian Girls wear simple uniforms of blue or khaki slacks, skirts, or dresses and blue or white tops.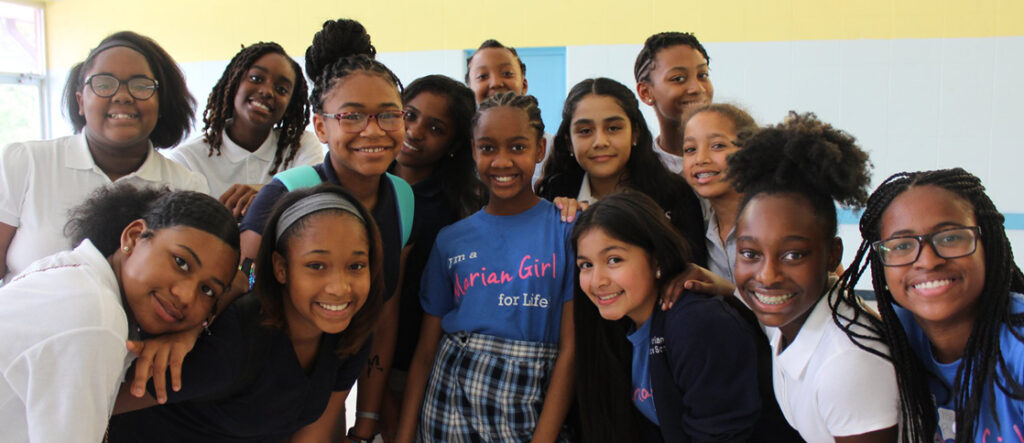 How much is tuition?
Families invest in their daughter's education in many ways—time, energy, and emotional support. They also invest by paying a nominal monthly tuition.
Tuition rates are calculated on a sliding scale based on each family's gross household income and adjusted for household size. On average, parents pay anywhere from $10 – $40 per month. Marian works with families of all levels of income to ensure a high quality education is available for every student who applies.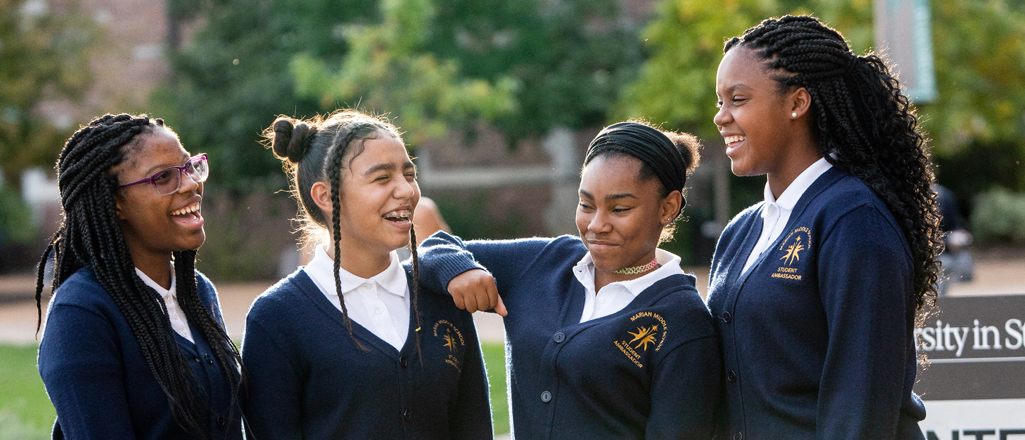 How much does it cost to educate one Marian Girl?
It costs more than $14,762 annually to educate one Marian Girl. The majority of this cost is covered by generous donations from individuals, foundations, organizations, and corporations.