2016
Incarnate Word "Caring Hands" Award
Recipients: Sister Sarah Heger, CSJ, Blair Hopkins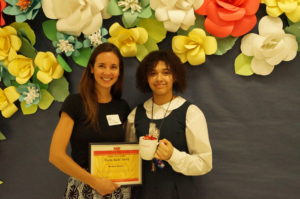 2016
St. Peter Claver Award
Marian Middle School received the St. Peter Claver Award for Service and Justice in 2016 for our commitment to our mission.
2016
Incarnate Word Leadership Award
Mary Elizabeth Grimes, president, received the Incarnate Word Leadership Award in 2016 for her exemplary leadership and for mentoring young women.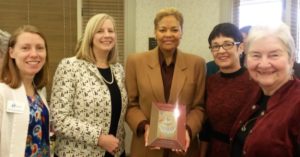 2015
Incarnate Word "Caring Hands" Award
Recipients: Sara Mashburn
2014
Peabody Leader in Education
Marian Middle School's current principal, Sarah Heger, CSJ, was honored as a Peabody Leader in Education while she was serving as both vice principal and fifth grade teacher during the 2014–2015 school year.
2014
Incarnate Word "Caring Hands" Award
Recipients: Sister Sarah Heger, CSJ
2013
Missouri School of Character
Marian Middle School was honored as a Missouri School of Character for offering "a meaningful and challenging academic curriculum that respects all learners, develops their character, and helps them to succeed."