—

GNO 365 ~ Women's Leadership Circle

—
GNO 365 is a giving circle of women from across the Saint Louis region. They harness their philanthropic resources, insights, and acumen to help young girls become educated, self-sufficient, and empowered adults. This collaborative approach to philanthropy leverages charitable dollars to make a difference.
Member Benefits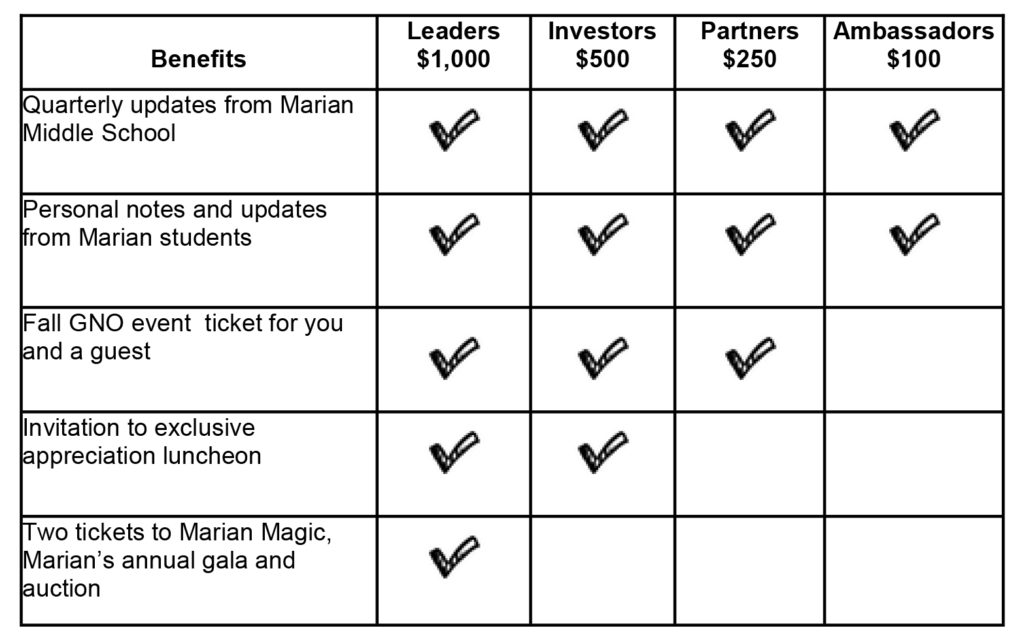 Ways to Give
Marian relies on generous individuals like you to sustain our programs and carry out our mission. With your support, urban adolescent girls from across the Saint Louis region will receive a transformative education.
Every dollar makes an impact on a Marian Girl's life. With GNO 365 individuals can make monthly donations throughout the year. Also, groups or organizations can form giving circles to giving a donation in support of our students. It's easy! Marian accepts cash, checks, credit cards, or gifts of stock.
$1,000
Funds one year of Professional Development classes for Marian students, including career coaching and mentorship luncheons.
$500
Provides tools for STEM workshops and courses, including coding software, gardening supplies, and Makerspace materials.
$250
Offsets expenses of college visits made by Marian alumnae and the Graduate Support team.
$100
Pays the fees for a Marian alum's college credit courses.
Matching Gifts and Volunteer Hours
Many corporations offer matching gift programs for employees and their families. To boost your gift in this way, check with your company to find out if they have a matching gift or volunteer hour program.
Volunteer Opportunities
Professional Women Luncheons
Marian hosts a number of career luncheons for our students to prepare them for high school and post-secondary success. Female professionals are invited to present career information to students over lunch, from 11:30 a.m. until 1 p.m.
College Week (March 2019)
Talk to students about your alma mater over lunch in order to prepare them to start thinking about their future.
Career Day (March 2019)
Students participate in Career Day with the five other NativityMiguel model schools in Saint Louis. Career Day is a chance for eighth grade students to interact with professionals from all different careers and learn more about the steps needed to become a successful worker. We are looking for a diverse group of people who are passionate about their career and willing to share career advice with young people.
Summer Scholars (June 2019)
Help our alumnae prepare for the future by assisting with mock interviews. You will have the chance to complete practice interviews with three to four students and offer feedback on their performance.
Become a Mentor or Tutor
Assist students with homework during study hall, read with students during independent reading, or empower girls with academic or career advice throughout the school year.
Plan a Lesson
Work with teachers to offer your professional expertise in planning a hands-on lesson tied to what students are learning.
Click here to watch our GNO 365 video.