By joining us at Marian Magic, an event that raises more than $450,000 annually, you are breaking the cycle of poverty for hundreds of Marian Girls. Your participation is impacting our world, one Marian Girl at a time.
2020 Event Chair
Christine McCoy, Ascension

2020 Sponsorship Chair
Joe Ambrose, First Bank
We are looking for generous individuals, foundations, organizations, and corporations to sponsor Marian Magic. This innovative, virtual event will culminate Marian's yearlong celebration of 20 Years Educating Girls for Life and honor those who have traveled the journey with them. For additional information, please contact Kristin Gumper.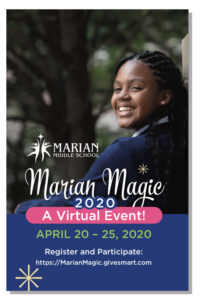 View our program in it's entirety here, complete with a history celebrating our 20 years Educating Girls for Life!
To register for the event, view our Teacher Wish List, and participate in online bidding, please visit: https://MarianMagic.givesmart.com
Read our FAQ to learn more about virtual Marian Magic.
Marian Magic 2020
April 20, 2020 12:00AM – April 25, 2020 12:00AM
A VIRTUAL EVENT

Founder's Circle
President's Circle
Principal's Circle
Director's Circle