20th Annual Marian Magic
Broadcasted LIVE from the Ferrara Theater at the America's Center Convention Complex
Register at https://MarianMagic2021.givesmart.com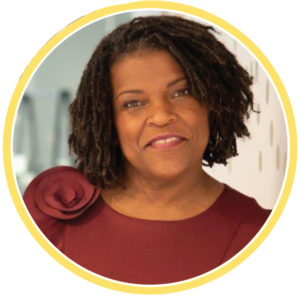 Featuring:
Celebrity Emcee Carol Daniel
Marian's outstanding students
Virtual Fund the Mission
Virtual Teacher Wish List
Honorees:
Boniface Foundation
Hauck Charitable Foundation
Marian's signature event, Marian Magic, converges the power of over 400 community members annually to fund transformational education for girls with high-potential, but limited means.
This year, Marian Magic will be BROUGHT TO YOU LIVE from the John Ferrara Theatre at the America's Convention Center Complex.
Together with you, our families and community, we have changed the lives of nearly 300 graduates and counting. Help us transform lives and continue building for our future!
2021 Event Chair


Christine McCoy, Ascension
Founders Circle Sponsors


Ascension
Emerson
See our program here: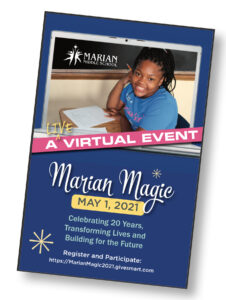 Looking to purchase tickets or donate? VISIT GIVESMART
Looking to purchase a table? VISIT GIVESMART
Register at https://MarianMagic2021.givesmart.com
COVID-19 has had an impact on all of us, and Marian continues to meet the challenges of the pandemic head-on. We're providing rigorous online learning, virtual counseling, high school and college preparation, and career support for alumnae, along with technology, and connections to food and supplies our students need.
That's why in a year defined by hardships and change, there is much to celebrate: 100% of our 8th graders and 100% of our high school alumnae graduated, outpacing national standards. All are pursuing bright educational and career paths.
During our LIVE broadcast, join us as we hear stories of success directly from Marian students, and invest in their future success.
Register now for your virtual tickets or tables, participate in our Teacher Wish List, or Fund the Mission.
Register at https://MarianMagic2021.givesmart.com
Marian Magic 2021
May 1, 2021 6:00PM – 7:00PM
A VIRTUAL EVENT

Founder's Circle
President's Circle
Principal's Circle
Director's Circle