Marian is the only private Catholic middle school in the St. Louis region serving urban adolescent girls in a faith-based setting. Together, we provide life-altering education for girls with limited means, but high potential.
Position Openings
Benefits of Working at Marian
Our Culture:
Marian is a joyful place to work, where teachers are trusted fully and treated with respect. An organized structure and strong leadership team provide guidance at the beginning of the year to ensure everyone has a shared understanding of school expectations, routines, and our approach to learning. See our About Marian page to learn more about our mission, vision, and guiding values.
Professional Development: 
Frequently, all Marian faculty unite for Professional Development Days. Faculty converge to collaborate, problem solve, and further their understanding about a specific topic relevant to the current needs of the students. Each year our PD opportunities/sessions are tailored to address the trend of staff and student needs. Professional development goes beyond perfecting pedagogy. We consider team bonding and spiritual needs equally important, hosting an annual staff retreat to support bonding, reflection, and connecting to the mission.
Collaboration: 
Marian is a small school by design. Faculty and staff know each student – most know our alumni in high school and college! Our faculty and counseling team work together seamlessly to support the whole child – each and every child is treated with dignity and individuality. Through our Care Team Marian ensures each and every student has the support they need to be successful in the classroom.
Autonomy:
Our faculty have the freedom to teach what they are passionate about. We do not believe in a canned curriculum or one-size-fits-all approach. Classes have ranged from Women's Protest Literature to Mapping, Gerrymandering, and the American Electorate. Enrichment Programs have ranged from Youth Professional Development, to Speech, to Woodworking, to Model United Nations to Praise Dance. Due to our small size, we are also able to accommodate more flexible schedules when necessary or beneficial.
Impact:
Teachers at Marian say time and again that they stay because they are making a difference. Students who come to Marian sometimes enter 1 to 2 grade levels behind. By the time they leave, our talented faculty and innovative Academic Program have empowered them to catapult ahead of their local and national peers. Faculty loop with students throughout middle school and maintain relationships with them through high school, college, and into their careers thanks to our Graduate Support Program. See our Success Story page to learn more.
Stability:
Marian is a family, and our North Star is our students. They are spunky, determined, and passionate. Because we're all dedicated to the mission, people stick around… from the faculty, to the leadership, to the administrative staff. When we say Once a Marian Girl, Always a Marian Girl, this includes our faculty and staff!
Planning:
Faculty receive an average of 100 protected planning minutes per day, plus lunch. Class sizes are capped at 20 students.
Physical and Spiritual Health:
Marian's medical healthcare is 100% paid for by the school. Because we are grounded in faith, spiritual health is also vital. Marian offers the opportunity for faculty to meet with a spiritual counselor on a regular basis for free.
The Benefits Package:
In addition to 100% paid healthcare for the individual, a spiritual advisor, a joyful culture, and strong leadership, Marian offers competitive pay, above the rate of most Catholic schools. Marian offers a flexible time model – staff are encouraged to advocate for their needs to stay balanced. This could range from negotiated time off campus to adjusted work hours.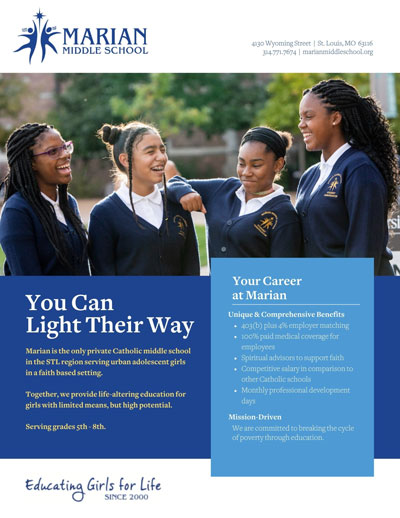 Working at Marian is not just a career, but an opportunity to impact the lives of Marian Girls and their families. Learn more by viewing the story of Alexis and her mom.