Niya Tandy is making her dream of becoming a lawyer come true. This past May, Niya graduated from Missouri State University with a major in Sociology and a minor in Spanish. She made the difficult and rapid trip back to Missouri from her study abroad semester in Mexico due to COVID-19. Undaunted, she started at Howard University School of Law in Washington D.C. this August.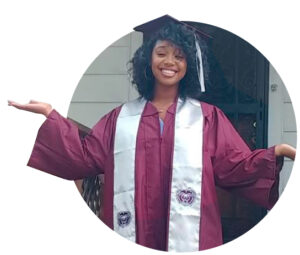 Marian Middle School has played a pivotal role in helping Niya achieve her dream. "Marian has set me up for success throughout my life, preparing me for an academically rigorous high school and providing connections that have helped me plan for my future," she says.
One of those life-altering connections was the collaborative partnership that Marian has with Big Brothers Big Sisters. It was through this program that Niya met her "Big Sister" Elizabeth, who inspired her to go to law school.
Marian's Graduate Support Team has been instrumental to Niya's success — and will remain connected with Niya throughout law school, and beyond. The team introduced Niya to high-performing high schools—helping her find the right fit at St. Joseph's Academy, where she served as Vice President of the Diversity Club. With guidance from Marian's Graduate Support Team, Niya accessed substantial financial aid and scholarships to attend Missouri State University in 2016.
At Missouri State, Niya was involved in the Association of Black Collegiates and the NAACP, and re-designed a legal needs assessment survey for Legal Services of Southern Missouri as part of an upper-level research course, which landed her an internship to prepare her for law school. In Spring 2020, Niya culminated her college experience with her last semester in Mexico.
Niya is making a difference in her world and is thriving! This year, 100% of Marian alumnae graduated from high school and are thriving too, beating local and national graduation rates. Marian Girls have limited means, but with Marian's support, they catapult ahead of their peers and prepare for bright college and career paths.
Marian gave Niya more than just an education. Marian gave her the social and emotional foundation she needed to succeed — for life!
You believe in the potential of Marian Girls. Thank you from the bottom of our hearts! Now is your opportunity to create a legacy and help us continue changing the trajectory of young girls who need it the most.
Will you give a special gift to support future leaders like Niya?

GIVE A GIFT TO SUPPORT MARIAN GIRLS TODAY
Thank you for your partnership with Marian — together we're breaking the cycle of poverty, one Marian Girl at a time.